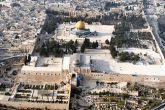 Friday, 4 September 2015 | The PLO [Palestine Liberation Organization] has issued an ominous 'advisory' to foreign journalists. In essence, it says, do not call Judaism's holiest site by its historically and archaeologically irrefutable name. Instead, call it Al-Aqsa, or else.
Two days ago, the "State of Palestine Palestinian Liberation Organization Negotiations Affairs Department" issued a press release. It is titled, "Advisory to Journalists Visiting the Al-Aqsa Mosque Compound."
It is an advisory that calls the site "the Al-Aqsa Mosque Compound" six times. So should reporters, says the PLO. Accordingly, it has four "urges" for journalists.