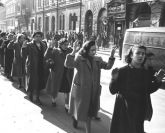 Friday, 11 September 2015 | Organizations and movements that oppose Israel invariably claim they are not anti-Semitic. Two days ago in England, however, protesters that represent these movements disproved the claim.
Anti-Israel protesters made their way to London Wednesday to express opposition to the Jewish state. Their call to action was prompted by the visit of Israel Prime Minister Netanyahu to the United Kingdom.
Recorded for posterity by ubiquitous smart phones, comments made by articulate agitators made their way onto Internet cyber-waves and into its archives.