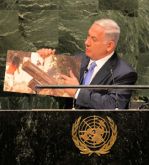 Yesterday [Sept. 29] Israel's Prime Minister Netanyahu used the United Nations' podium to warn the world.
"Israel's fight is your fight," he said. It is a fight that is against "militant Islam," a movement that "spares no one. No creed, no faith, no ethnic group is beyond its sights. And it is rapidly spreading in every part of the world."
That means, he argued, that not only Israel's hopes but also "the world's hopes for peace are in danger."
It is a danger that Netanyahu likened to cancer, appearing in one part of the body that, left unchecked, metastasizes to the rest.